The Community Foundation of Middle Tennessee (CFMT) has named the third annual Nashville Fashion Forward Fund recipient as stylist and blogger, Elise Joseph. A committee of the Board of CFMT selected Joseph as the recipient amongst a group of applicants working within the fashion industry and with ties to Middle Tennessee. Joseph is the first stylist and blogger to be selected as a recipient of the fund.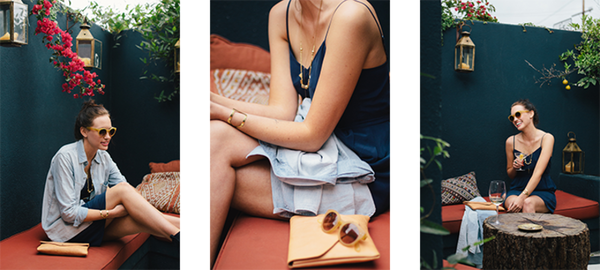 Established in 2011, the objective of the Nashville Fashion Forward Fund of The Community Foundation of Middle Tennessee is to provide an award that recognizes the individual achievements of a fashion industry professional. The financial resources that accompany the award are intended to provide a professional development and/or experiential opportunity for the winner to further advance their career in the fashion industry.
"It is an incredible honor and privilege to be named this year's Nashville Fashion Forward Fund recipient," said Joseph. "The Nashville fashion community is always giving back, which is what I too hope to do in my home city for years to come. It is an exciting time to be a Nashvillian, and I'm determined to help this town continue to flourish and grow, while maintaining our deep Southern roots, charm and history."
Joseph, born and raised in Nashville, has made a name for herself as a stylist, a blogger of her largely followed design blog, Pennyweight, and on Pinterest where she has earned over 1.3 million followers. She has partnered with fashion brands such as Steven Alan, Madewell, Equipment, Need Supply, J.Crew, Gap, Warby Parker and West Elm.
Joseph is perhaps best described in the words of one creative director at Madewell: "She has her finger on the pulse of the best indie music, stylish home goods, new shopping destinations - the works. In other words, if it's artfully cool, you can bet it's on her well-rounded radar." She has also been featured on Refinery29, InStyle Magazine, Kinfolk Magazine and Southern Living, and served as Media Director at Nashville's own imogene + willie.
"My goal this next year is to research, learn, grow and collaborate, while working towards my dream of a brick and mortar shop," Joseph has stated. "The NFF funds will aid in my travels both domestically and internationally, allowing me the opportunity to meet artists and designers around the world, and to challenge myself both personally and professionally."
2012 NFFF WINNER
Lauren Leonard, the creative mind behind the fashion line, LEONA, was chosen as the 2012 Nashville Fashion Forward Fund winner. Leonard was carefully selected from an illustrious group of fashion industry professionals that included designers, hair and clothing stylists, photographers, makeup artists and models.
Since LEONA's debut in the spring of 2008, it has quickly gained a faithful following and is sold at more than one hundred of the most discerning and renowned retailers. It's been featured in Lucky, Elle and People magazines, and on the hit television shows Gossip Girl and 90210. LEONA is becoming one of the fastest growing contemporary labels in fashion today. Best of all, the entire line is created right here in Nashville in Leonard's studio and has shown at Nashville Fashion Week in the inaugural year of 2011, and then again in 2012 and 2013.
The Nashville Fashion Forward Fund will allow Leonard to travel to Paris in the spring of 2014 to meet with fabric and trend vendors and to gather inspiration from around the city for her Spring 2015 collection. Her line focuses on effortless slip-on clothing and chic basics. It features perfect silk blouses, day-to-night throw on silk dresses to be the wardrobe building essentials for the modern woman. Each piece of the new luxury essentials collection is really all about chic comfort and versatility. Leonard is focusing on creating garments that are transitional from day to night and season to season.
"Luckily, I know that the Nashville woman really values these same ideas," said Leonard. "She is cool, ambitious, genuine and her style is effortless. I can't wait to show our Nashville LEONA girls our evolution. We will be introducing more and more of these products in our Nashville store this spring and summer!"
Leonard continues to make products in the USA and only sources the best materials in the world.
2011 NFFF WINNER
The initial Nashville Fashion Forward Fund Award was awarded in 2011. The award recipient was Julianna Bass, a Pulaski, TN native and MTSU alumna. Julianna attended the Bread and Butter trade show in Berlin, Germany as her Nashville Fashion Forward Award experience. Her primary goal for the experience was to initiate expansion of her eponymous clothing line into an international market.